December 1, 2016
Survivor Sarah Ford, president of the new SCAD Research Australia Inc., sent us an email today letting us know they were just approved as a Not for Profit Health Charity with tax deductible status in Australia. Their plan is to raise money for much needed research at Mayo Clinic.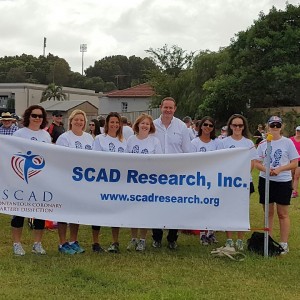 SCAD Research Australia's mission is to advance the understanding of the underlying causes and risk factors for SCAD as well as develop solutions for optimal diagnosis, treatment and prevention.
In 2016, Sarah along with the help of other survivors organized 5KMs SCADaddles for Research in Sydney, Melbourne, Tasmania (Hobart) and Queensland (Noosa). They raised almost $10,000, which became part of our 2016 $175,000 donation to the SCAD Research Program at Mayo Clinic (Rochester, MN). Getting approval as a nonprofit in Australia means future donations made through SCADaddles or other fundraising efforts by SCAD Research Australia will be tax deductible.
We are thrilled to have a "sister" organization in Australia helping to raise money for research!
Check out their website https://scadresearchcomau.wordpress.com/
Like them on Facebook https://www.facebook.com/SCADResearchAust/?fref=ts and follow them on Twitter https://twitter.com/SCADResearchAus.
Congratulations! Thank you Sarah for all of your hard working making your vision into a reality. We look forward to working with SCAD Research Australia, Inc.