2016 New Jersey 5k SCADaddle
Saturday, April 30, 2016
SCAD Survivors and supporters gathered on April 30, 2016, at 9:30 am for the first 5K SCADaddle for Research in New Jersey! The run/walk took place at Winding River Park in Toms River, New Jersey. Participants came from various states along the East Coast and raised well over ten thousand dollars for research and an additional large donation is expected.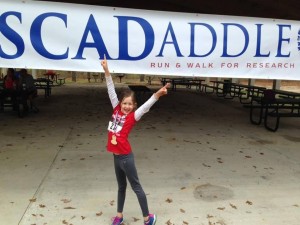 The New Jersey 5K was manually timed by members of the Ocean County Running Group. Medals were given to the top three overall winners, as well as the top three males and top three females in the following age groups: 12 and under, 13-18, 19-29, 30-39 and 40 and older. Click for NJ SCADaddle results.
A special thank you to the New Jersey planning committee:
Jill Kelly McComsey
Stephanie Holland George
Jo Anne Rizzi
Stephanie Spencer
Jerry Spencer
Other survivors and SCAD Research supporters walked virtually. Some virtual survivors organized local walks in solidarity with the national and New Jersey run/walk.
SCADaddle for Research sponsors were secured to help defray costs and raise additional money for research.
Mayo Clinic SCAD Research Program Presentation
Survivors and supporters gathered at the facility of Race Sponsor, Community Medical Center, a hospital of Barnabas Health, in Toms River, NJ, to watch the streaming of the Mayo Clinic SCAD Research Presentation real-time at the National 5K in Illinois. They were able to submit several questions to the presenters during the Q&A that followed.
The video is posted on our YouTube channel.
The presenters included:
Sharonne Hayes, MD: Mayo Clinic SCAD
Research Program Team Lead and Chair of our Scientific Advisory Committee
Marysia Tweet, MD: Co-creator of Mayo Clinic SCAD Registry, Senior Cardiology/Fellow
Timothy Olson, MD: Principle investigator on the Genetic Investigations in SCAD (DNA biobank)
Jeanne Theis, PhD: Research Scientist in SCAD DNA Research
Kevin Cohoon, MD: Vascular Specialist with Primary Expertise in FMD
Timothy Olson, MD from Mayo Clinic attended. Dr. Olson is the principle investigator on the Genetic Investigations in SCAD (DNA biobank) and presented a few years ago.
Jill Boyum (SCAD Research Study Coordinator) and Cindy Allen (Dr. Hayes long-time assistant) were also in the audience.

Supporting, Patron and Partner Sponsors
A special thank you to this year's sponsors especially our Patron and Partner Sponsors.
Patron Sponsors

Neptune City, NJ

Quincy, MA
Partner Sponsors
Community Medical Center, Barnabas Health
Toms River, NJ